I have to admit that the death of former Pres. Cory Aquino didn't strike me right away. I wasn't as affected as the others, I guess I was young when she was around, if anything, I only remember the brownouts during her time but nothing else; I did not know what kind of president she was.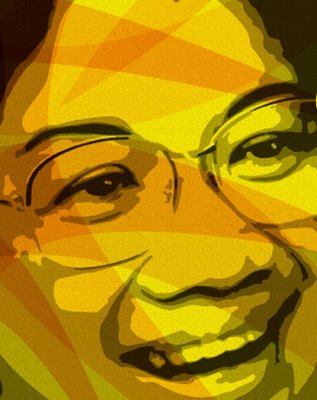 A few days after her death, I regret not being part of her funeral, it could've been a really momentous event that I can say when I'm old that I was part of, but oh well. Anyway, I listened to the radio to the speech of her daughter, famous actress, Kris Aquino; I asked all our employees to wear yellow on her funeral day, and read the newspaper/ internet of people writing about nothing but praises for her.
With all that I have read for the past few days, all that I've seen and heard about her, I realized that it is possible to have a president that has dignity and not be blinded by temptations.
As I read, they said that Pres. Cory was the only one who became president by fate and not by ambition, and it's so true. She is just one amazing woman who has strong faith in God and was just called upon to serve her country. She also advised Kris Aquino that if ever she decides to get into politics that she has to make sure that she first becomes a simple person, someone who does not require branded items etc, just like her; especially that she is a Cojuanco, a prominent family, could easily afford whatever she wanted but she was as simple as a woman can be. Today, in the newspaper, they said during her presidency, some of the people wanted to name Benigno "Ninoy" Aquino, her husband, as one of the National Heroes but she said not to do it during her presidency, and even if they try passing a nomination, she would veto it! She is indeed a person with principles.
Her death has sparked a flame in Filipino people's hearts; part of the heart that has gone numb with all the abuses of the current administration. I think somewhere in the past decade people were "stupefied" (borrowing a term from Harry Potter), and has forgotten that we DO live in a democratic country, and somehow her death has become a potion that has awakened us up. I hear fierce comments about the Arroyo here and there, even fiercer jokes about her death (or at least people's wish for her death*). Cory's death reminded us again why her husband gave up his life... to stand up to people who abuse their powers.
Cory's funeral- AMAZING PHOTOS by Fung Yu: http://lifeonthespot.com/blog/images/cory_aquino1.jpg
The Central Bank of the Philippines or BSP is going to add her image into the P500 bill beside her husband. She has lived an amazing life, a life that is praise-worthy and people just can't stop glorifying her name. She definitely had a life that is so admirable that her death has awakened the whole nation. Hindi ka nag-iisa, Tita Cory! (You are not alone, Cory!)
*Jokes received from text messages:
• At the funeral of Cory Aquino, a guy asked: there are so much people!!! do you think if Arroyo dies, there would be as much people to come and see her?
Another guy answered: OF COURSE! There would probably more people who will come see her to make sure she's really dead.
• A 21 gun salute will also be given to Gloria Arroyo once she dies, but all guns will be aimed at her casket to make sure she stays dead.
• a "mistake" printed in the newspaper? (See coffin of Pres. ARROYO)