I just love celebrating my birthday. I recently threw a surprise birthday party for myself last Saturday. I invited 40 something of my closest friends from all sectors of my life: the Mabuhay Tour Guides, kindergarten-elementary school, high school, college friends, and Couchsurfing friends. It is so fun to just be surrounded by people you want to see.
I got catering from a company called Sweet Inspirations (www.cafesweet.com). They have a Mongolian Barbeque catering which you order per head, and then its arranged as a buffet then you get the ingredients you want like rice or vermicelli, pork or squid, vegetables or tofu; then you mix all the seasoning to your liking. You then give the bowl to the waiter then they will cook it for you Mongolian style then voila! I saw my guests were very intrigued by the type of catering I had, it was very interactive and kind of fun that you get to decide what to put into your rice bowl, and best of all, it really was delicious.
Later part of the night, my Spanish friend, Isma, prepared a game for the party; We dubbed it the national game of Spain. Haha. He bought a loaf of bread and he challenged anyone to eat a slice in 1 minute without drinking water. The winner gets P100 from Isma and the loser gives me P100. Entertainment and money! It's the best game ever! Haha. Vangie, Stanley, Dustin and Melissa all dared to eat a slice of bread in a minute, they all lost! That only means I got P400 that night! Haha but Isma did lose a hundred to Andy! Lol.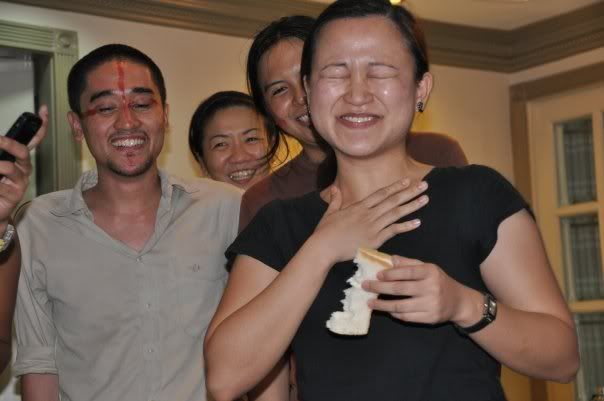 A group of my friends were singing the karaoke, a table was playing poker which later on turned into the Monkey-Monkey game and the loser would have to have their face drawn on with a lipstick. It was so fun because I get to do all the drawing! My friends were all having fun (hopefully)! Booze kept coming in also with the guests, Absolut (thanks Nicky), Soju from Ronnie, Cuervo from Blossom, Lambanog from Dennis, jello shots from Beth; and how can I forget, all those yummy chocolate cakes thanks Stef and Erick, Michelle; Mango cake from Mon and Mercy; and of course the heavenly Tiramisu by Jordan (who is by the way, the best person ever!) lol.
Towards the later part of the night when more people were going home, Andy wanted me to go to Embassy with him. I swear I got some sort of back problem so I said I can't go anymore, I feel like such a wet blanket especially when Andy rarely expresses what he wants and I felt really sorry. But then my friend Ronnie was just the life saver. He acted as my DJ for the night, spinning the coolest music for us. We turned off the lights and started dancing; but what really set the mood was that my good friend Zara (Pakshet) brought her LCD projector with her and projected the screen of the computer onto the wall with swirling colors and everything! We couldn't be at the Embassy but they sure brought the Embassy to the house.
When we were all pooped from all that dancing, Pakshet gave me a surprise slideshow! It was the sweetest thing. I've never had anyone done a slideshow for me before, I felt really special, and it was a really nice gift. *sniff* haha
All in all, it was a great night. This is how I always want to celebrate my birthday, celebrate it with people who are close to me and just having fun!